Former Stormtrooper Finn
Many of these theories currently concern the notion that there is more than one Jedi in The Last Jedi. Director Rian Johnson keeps shooting that whole thing down — Luke is specifically named the last Jedi in the opening crawl of The Force Awakens, he notes. This ancient, lightsaber-twirling, Force-filled order has no other official adherents, and Luke thinks it must end.
Nevertheless, the multiple Jedi theorists persist. One version says that Rey becomes a Jedi in the movie, and that notion was dealt a blow by the first full trailer which suggested Rey spends the film moving to the Dark Side.
Well then, say those who remember former Stormtrooper Finn wielding Luke's lightsaber twice in The Force Awakens, maybe Finn is a Jedi? As this Reddit thread notes, his stormtrooper name, FN-2187, recalls the obscure indie movie 21-87, where George Lucas found inspiration for the Force.
Well, if that's so, the actor playing the guy isn't helping.
"There are loads more stronger characters in the Star Wars universe that can go up against Jedi and they don't necessarily have to be a Jedi," Boyega told Digital Spy Friday, in response to the question of whether he'd like to be a Jedi.
"I think it would be more interesting if they had more than one person be a Jedi – but I think that that is the one of the unspoken laws of Star Wars. They only have one who has to go away and train."
It isn't exactly an unspoken law, but Boyega has a point. Having dozens of superhuman, above-it-all Jedi was part of what made the prequels less interesting than the originals for many disappointed fans. Obi-Wan, Yoda and Luke all benefited from being the last known Jedi in the galaxy in Star Wars, Empire Strikes Back and Return of the Jedi respectively.
FINN STORMTROOPER NUMBER
Finn, it transpires, is a rechristening of his stormtrooper designation FN-2187. It's a moment for die-hard Star Wars fans to knowingly nod and smile. 2187, as any hardcore geek can tell you, is a reference to the cell number that holds Princess Leia captive in Star Wars Episode IV: A New Hope.
FN-2199, nicknamed "Nines," was a human male stormtrooper who served the First Order in the decades following the Galactic Civil War. He served alongside his friend and brother-in-arms, FN-2187. Following FN-2187's desertion, Nines confronted his former comrade at the Battle of Takodana where they fought each other in single combat. Accusing the former trooper of treason, Nines gained the upper hand but was fatally shot by Han Solo before he could kill FN-2187.
FN-2199 was first introduced in the 2015 novel Before the Awakening, written by Greg Rucka. He appeared in the 2015 film Star Wars: Episode VII The Force Awakens.
FN-2199 was physically portrayed by veteran stuntman Liang Yang, while his voice was provided by David Acord, a sound editor for Skywalker Sound.
His scene in the film, where he shouts "Traitor!" at Finn, led to him quickly becoming an internet sensation shortly after its release. Before his official name was given, fans had labeled the character as "TR-8R." Because of his popularity among fans, FN-2199 became the star of many internet memes.
In the free-roam mode of LEGO Star Wars: The Force Awakens, FN-2000 appears on Takodana and is seen mourning FN-2199's passing during the battle. FN-2000 provides the player with a side mission, in which he asks the player to retrieve FN-2199's stun baton, which has been stolen by mercenaries residing on Takodana. Completing that mission awards the player with a gold brick.
According to the 501st legion fan group, "TK" is just the internal designation for your regular-flavor Stormtrooper. But that doesn't answer your question about what it stands for. For the Force Awakens, "FN" is allegedly shorthand for "Foot-soldier Number".
FINN VS STORMTROOPER
"Star Wars: The Force Awakens" is full of amazing characters, including ones we've grown up with and loved for decades and ones that we're only just starting to get to know. But there's one incredible force of nature who's recently begun to take the Internet by storm — and it's not Finn, or Poe, or Rey, or Han Solo, or even emo Kylo Ren.
It's this guy.
You remember this guy — how could you forget him? When Finn is forced to fend off against his former comrades in arms while escaping the ruins of Maz Kanata's tavern, one stormtrooper gets his attention by loudly calling him a traitor (Okay, it's more like "TRAITOR!!!!"), and then it is on.
Not only does the guy throw way his shield and blaster like they are just as dead to him as Finn now is, but then he whips out the most nonsensical and aw-inspiring melee weapon ever conceived of in the history of the franchise. It SPINS.
Unfortunately this amazing standout stormtrooper was too close to beating Finn in one-on-one combat, and so Han solo had to shoot him in the face. But since the movie hit theaters earlier this month — and even before, since he'd appeared in a few of the TV spots and other advertisements — he's become all anyone can talk about.
IS FINN FORCE SENSITIVE
Just in case your head isn't already spinning with theories about who Rey's parents are or whether or not Kylo Ren really is committed to the Dark Side, there's another much more intriguing one that has quietly lived on Tumblr since Star Wars: The Force Awakens first came out. It is possible, a lot of people are wondering, that our buddy Finn is Force-sensitive? When you squint, there's a lot of evidence that might point to just that.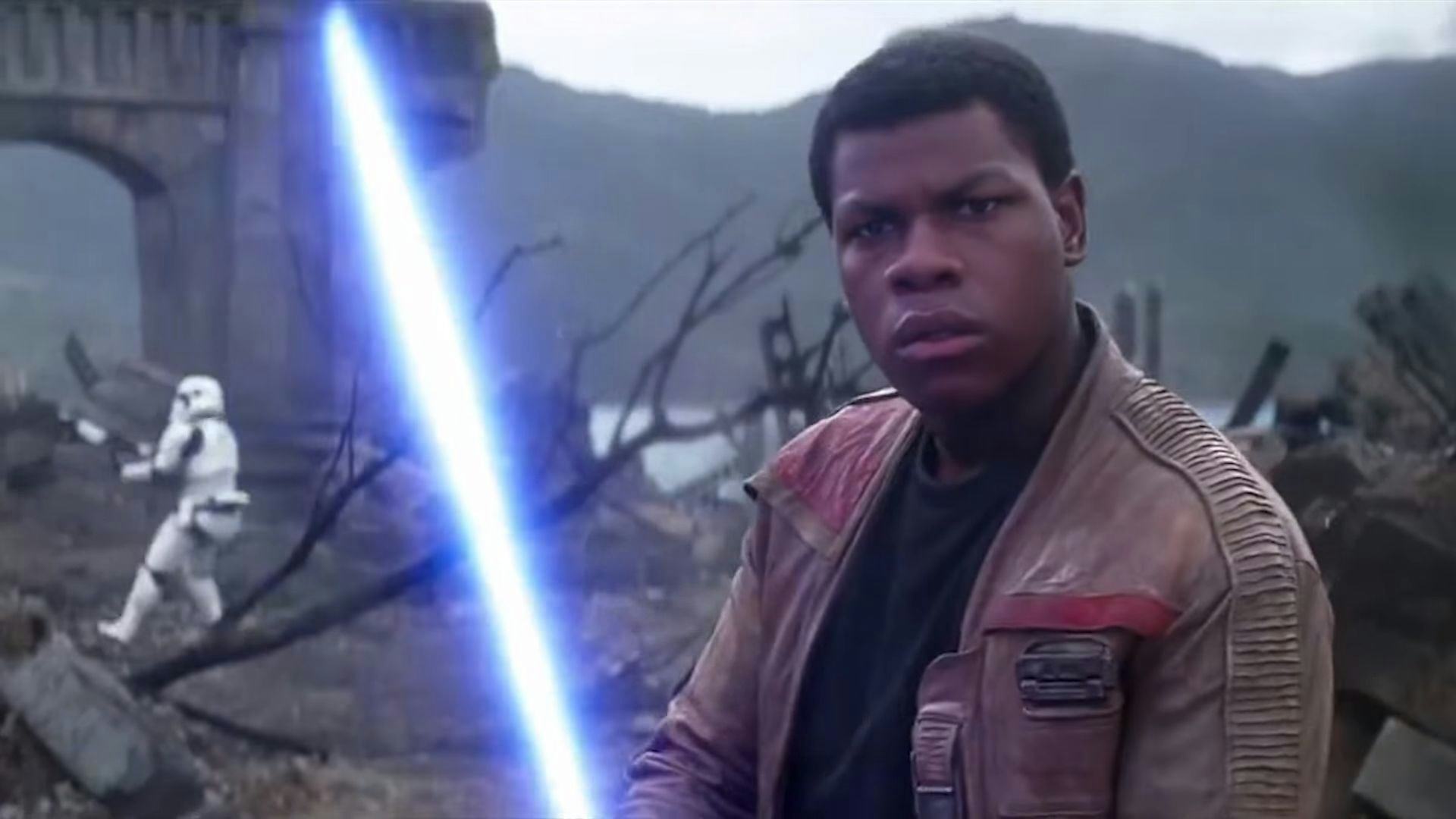 Of course, the idea was not-so-subtly planted into everyone's mind when Finn's introduction to the nerdosphere was him wielding a lightsaber in the trailer for the film. It's the other actually subtle turning points in the movie that seem to hint that Finn definitely has Force potential.
Some people are going as far to say that Finn himself is a Skywalker, and that all the theories about Rey being Luke's daughter are a red herring to distract from that.
While I've dissected Rey and Finn's parentage so much that I'm having way too much of a "Jesus Take The Wheel" moment with them to really dissect the possibility of it in this post, there are still plenty of canon indications that Finn might be every bit as Force-sensitive as we know Rey to be.
Snoke Refers To An Awakening Long Before Rey Has Her Vision
It Would Explain Why He's The Only Stormtrooper Who Defected
It Would Explain Why Captain Phasma Lowered The Shields
It was no accident that Maz handed Finn the lightsaber,
He Survives On Jakku
He Holds His Own Against Kylo Ren For Way Longer Than He Should Be Able To
People Seem To Think That Finn Felt The Attacks On The Republic Before They Were Visible In The Sky
FINN STAR WARS ACTOR
John Boyega may have a lot in common with Finn, the character he plays in "Star Wars: The Last Jedi," but a trip to a London toy store left the actor floored.
Boyega said one of the most surprising experiences he had while making the film was seeing his own larger-than-life likeness at the Toys "R" Us store he frequented as a kid. The actor had gone to find a gift for his newborn nephew when he came face to face with a giant cardboard cutout of himself as Finn.
"There were toys everywhere, and I was just like, 'Wow,'" Boyega said in a recent interview. "I'm on the shelf. It's strange."
While he has gotten more accustomed to his place in the Star Wars universe after making his debut as Finn in "The Force Awakens," both he and his character remain awed by the scope of that world.
A former Stormtrooper who escapes the First Order to join the Resistance, Finn is now emboldened to discover where he fits into the fight, Boyega said.
"It creates a very brave Finn and he's eager to do anything to find out and prove that this is my position," said Boyega.
The 25-year-old actor is poised to do the same in Hollywood: His work in Star Wars has led to other high-profile roles, including a part in Kathryn Bigelow's "Detroit" and in next year's "Pacific Rim Uprising."
"I feel like during the filming of 'The Last Jedi,' we were kind of living parallels to our characters in a sense," Boyega said. "Because Finn is now well known in the Star Wars universe, and for me, I'm known within the industry and our planet and whatever. Now he has this reputation and it's hard for him to keep that up while still figuring himself out because he's been labeled as a hero."
Finn's onscreen heroics in "The Last Jedi" include an epic battle with Captain Phasma (Gwendoline Christie) that took months of training and preparation.
Off-screen, Boyega was a hero to newcomer Kelly Marie Tran, who plays Rose Tico. The two met while she was auditioning for the role, and he has advocated for her ever since.
HOT TOYS FINN STORMTROOPER
One of the most attention-grabbing moments of Star Wars: The Force Awakens was the duel between the lightsaber-wielding Finn and the baton-wielding First Order Riot Control Stormtrooper. Now with the epic blockbuster hitting theaters around the world, Star Wars fans can fully enjoy this exciting fight between the renegade First Order Stormtrooper Finn and the Riot Control Stormtrooper on the planet of Takodana.
Hot Toys are very excited to officially present a special sixth scale collectible figures set featuring Finn and First Order Riot Control Stormtrooper to let fans re-enact this thrilling battle!
The highly-accurate Finn sixth scale collectible figure is specially crafted based on the image of John Boyega in the film featuring a newly developed head sculpt, finely tailored outfit, LED light-up lightsaber, detailed weapons, and a hexagonal figure stand with the Resistance's emblem. The First Order Riot Control Stormtrooper is equipped with sleekly designed Stormtrooper armor and helmet, the iconic baton, a riot shield, blaster rifle, and a hexagonal figure stand with the First Order's emblem.
Don't miss the chance to add this pair of fighters to your Star Wars collection today!
The Finn Sixth Scale Collectible Figure specially features:
Authentic and detailed likeness of John Boyega as Finn in Star Wars: The Force Awakens
Newly developed head sculpt with highly-accurate facial expression and hair sculpture
Approximately 30 cm tall
Body with over 30 points of articulation
Eight pieces of interchangeable palms including:
One  pair of fists
One  pair of relaxed palms
One  pair of palms for holding lightsaber
One pair of palms for holding blaster
Each head sculpt is specially hand-painted
WILL FINN BECOME A JEDI IN EPISODE 9
The Sequel Trilogy has introduced a less stark difference between the Force sensitive and the non-Force sensitive than was seen in the ritualized Jedi Order of the prequels.
Maz Kanata can feel the presence of others in the Force, but doesn't label herself a Jedi. Many fans have speculated that Finn is Force-sensitive because he used Rey's lightsaber in The Force Awakens. Using a lightsaber doesn't necessarily mean one is Force sensitive (look at Han Solo), but showing that Finn has Force abilities would be a dramatic arc for the former stormtrooper.
Finn has finally decided to join the Resistance in earnest. So what's next for him? If the aforementioned Jedi path isn't ahead of him, might the search for his own parents occupy his time?
After all, we know Finn was taken at a very young age and that he was never given a proper name. Searching for his parents might give Finn more than enough to do in Episode IX. That said, it'll be a lot to cram into one movie. We assume this search would have to run parallel to Rey's final battle with Kylo.
There's also Finn and Rose's budding romance. By the end of The Last Jedi, it's clear that these two heroes have developed feelings for each other.
Perhaps another undercover mission would be a chance for them to get closer? Many fans are also rooting for Finn and Poe to show romantic feelings for one another, either obviously or subtly.
Rose is the newest character in this group of heroes and so the hardest to predict a path for. Her mechanical skills, strength, and determination will undoubtedly prove to be an asset for the fight ahead, though.